Megatron®

Ultraviolet Water Disinfection Systems

Megatron® Product Features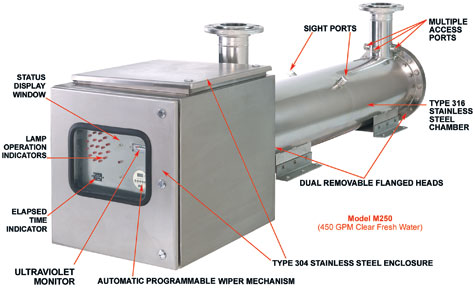 MODULAR DESIGN - Each MEGATRON® is a completely self-contained disinfection system. The electrical enclosure and disinfection chamber form an independent unit simplifying installation; simply secure, plumb and supply suitable single-phase power. Multiple units can be interconnected to comply with nearly any flow requirement.
All internal electronic modules can be removed and replaced, simplifying troubleshooting, and reducing any possible down time.
ELECTRONIC BALLASTS - State-of-the-art electronic ballasts developed specifically for the operation of ultraviolet lamps. These ballasts are smaller, lighter, and more efficient;
operate cooler, provide higher ultraviolet lamp output with a reliable, long life.
MANUAL WIPER SYSTEM - Permits mechanical cleaning of the quartz sleeves without service interruption, or disassembly of the system.
AUTOMATIC WIPER SYSTEM (OPTIONAL) Once programmed, permits unattended mechanical cleaning of the quartz sleeves.
SIGHT PORT Translucent plug mounts to the disinfection chamber and provides positive indication of germicidal lamp operation.
QUARTZ SLEEVES Fused, high quality quartz, protects and insulates the ultraviolet lamps to insure high output over a range of operating temperatures.
REMOTE OUTPUTS - 12v DC: Provides power for a low-voltage audio alarm, 50mA max.
4-20mA: Provides an output corresponding to the ULTRAVIOLET INTENSITY. Output must be displayed by a PLC, computer, or 4-20mA meter, which can interpret the signal.
Dry Contacts: Provides SPDT output corresponding to UV NORMAL or UV LOW status of the monitor.Contacts are rated at 50v 100mA max.
---
Megatron®, Ster-L-Ray™ and Easy-Off™ Retainer Cap are trademarks of the Atlantic Ultraviolet Corp.