Home

PRODUCT by Residential
Ultraviolet APPLICATION

Water
Purification
Room Air /Air Duct Sanitizers

PRODUCT by Commercial
Ultraviolet APPLICATION

Water
Purification
Liquid
Disinfection
Wastewater Disinfection
Room Air/Air Duct Sanitizers
Air & Surface Disinfection
Storage Tank Air Sterilizers
Pond, Lake and Swimming Pool UV, Aeration/Ozonation

UV Germicidal
Lamps, Lamp Holders, Quartz
BL





Megatron®

Ultraviolet Water Disinfection Systems

Megatron® Product Overview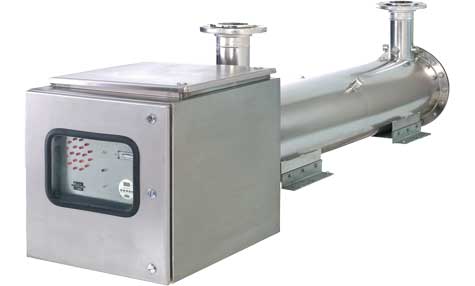 - 90 to 450 gallons per minute [gpm], 120,000 to millions of gallons per day [gpd]
- Manifolding multiple chambers achieves higher flow rates
- Clear wastewater, clear fresh and high purity water disinfection
- Modular, multi-lamp pressure vessel chamber
- 316 Stainless Steel, electropolished and passivated
- Control panel includes display window, lamp operation indicator, elapsed time indicator; dual removable flanged heads; dual drain fittings; multiple access ports and sight port
- Manual or automatic wiping mechanism and customized monitoring systems available.



The

Megatron

® Model M250 has been verified by The Environmental Technology Verification Program®. To learn more about the Environmental Technology Verification Program®
visit: www.epa.gov/etv ETV Report ETV Statement
---
Megatron®, Ster-L-Ray™ and Easy-Off™ Retainer Cap are trademarks of the Atlantic Ultraviolet Corp.