Home

PRODUCT by Residential
Ultraviolet APPLICATION

Water
Purification
Room Air /Air Duct Sanitizers

PRODUCT by Commercial
Ultraviolet APPLICATION

Water
Purification
Liquid
Disinfection
Wastewater Disinfection
Room Air/Air Duct Sanitizers
Air & Surface Disinfection
Storage Tank Air Sterilizers
Pond, Lake and Swimming Pool UV, Aeration/Ozonation

UV Germicidal
Lamps, Lamp Holders, Quartz
BL




MightyPure

®

Ultraviolet Water Purifiers

MightyPure® Installation & Maintenance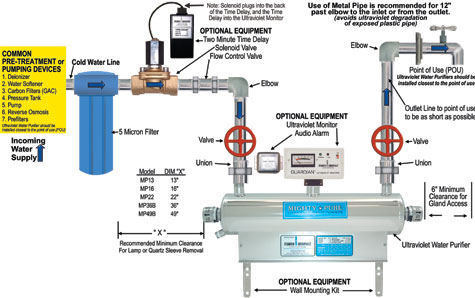 The purifier is installed as close as possible to the point of use. Connection of the inlet and outlet to water supply and insertion of plug into 3-wire grounded outlet is all that is required.

Ordinary maintenance consists of cleaning the quartz sleeve, when conditions warrant. Lamp replacement is recommended every 10,000 hours of operation (approximately 12 months of continuous service).
---
MightyPure

®, Ster-L-Ray™ and Easy-Off™ Retainer Cap are trademarks of the Atlantic Ultraviolet Corp.
MightyPure

®
Product
Overview
Product
Advantages
Product
Features
Product
Photos
Principal of
Operation
Residential & Commercial
Models
Germicidal
Lamp Data
Ultraviolet
Dosage
Operating
Characteristics
Installation
Maintenance
Installation
Photos
Monitoring
Options
Optional
Accessories
Replacement Parts
Adobe Acrobat PDF Library for

MightyPure

®