Home

PRODUCT by Residential
Ultraviolet APPLICATION

Water
Purification
Room Air /Air Duct Sanitizers

PRODUCT by Commercial
Ultraviolet APPLICATION

Water
Purification
Liquid
Disinfection
Wastewater Disinfection
Room Air/Air Duct Sanitizers
Air & Surface Disinfection
Storage Tank Air Sterilizers
Pond, Lake and Swimming Pool UV, Aeration/Ozonation

UV Germicidal
Lamps, Lamp Holders, Quartz
BL




MightyPure

®

Ultraviolet Water Purifiers

MightyPure® Product Features
Quick Lamp Change - Exclusive Easy-Off™ Retainer Cap enables effortless lamp replacement without shut down of water pressure or drainage of tank. No tools required.

Drain Plug - Convenient, in-place drainage of purifier chamber.

Stainless Steel Construction - Type 316 Stainless steel chamber is electropolished and passivated for an attractive finish and dependable service.

Fused Quartz Sleeve - Insures optimum lamp output at normal potable water temperatures.

Sight Port Plug - Visible glow provides positive indication of germicidal lamp operation.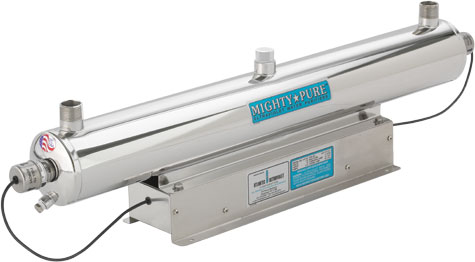 ---
MightyPure

®, Ster-L-Ray™ and Easy-Off™ Retainer Cap are trademarks of the Atlantic Ultraviolet Corp.
MightyPure

®
Product
Overview
Product
Advantages
Product
Features
Product
Photos
Principal of
Operation
Residential & Commercial
Models
Germicidal
Lamp Data
Ultraviolet
Dosage
Operating
Characteristics
Installation
Maintenance
Installation
Photos
Monitoring
Options
Optional
Accessories
Replacement Parts
Adobe Acrobat PDF Library for

MightyPure

®