Home

PRODUCT by Residential
Ultraviolet APPLICATION

Water
Purification
Room Air /Air Duct Sanitizers

PRODUCT by Commercial
Ultraviolet APPLICATION

Water
Purification
Liquid
Disinfection
Wastewater Disinfection
Room Air/Air Duct Sanitizers
Air & Surface Disinfection
Storage Tank Air Sterilizers
Pond, Lake and Swimming Pool UV, Aeration/Ozonation

UV Germicidal
Lamps, Lamp Holders, Quartz
BL




AeroLogic

®

UV Air Duct Disinfection

AeroLogic® Principal of Operation

The

AeroLogic

® line of Air Duct Purification systems has been carefully conceived to provide germicidal ultraviolet exposure for air stream and surface disinfection. The dosage, as it applies to ultraviolet disinfection, is a function of time, and the intensity,
of ultraviolet radiation, to which the air stream and surface is exposed. To review more about the principal of operation, please review the owner's manual listed below...


AeroLogic
® AERO-8 - AERO-44 Owner's Manual

AeroLogic

® AD12-AD64 [1,2,4 lamp unit] Owner's Manual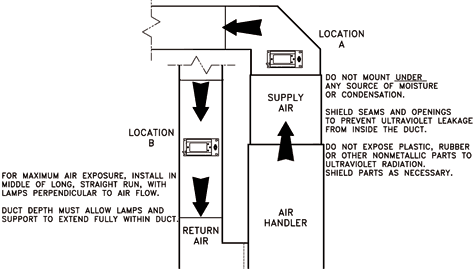 ---
AeroLogic

® is a registered trademark of the Atlantic Ultraviolet Corp.
AeroLogic

®

Product
Overview
Product
Advantages
Product
Features
Product
Photos
Principal of
Operation
Residential & Commercial
Models
Uses and Applications
Germicidal
Lamp Data
Ultraviolet
Dosage
Installation
Maintenance
Installation
Photos
Monitoring
Options
Optional
Accessories
Replacement Parts
Adobe Acrobat PDF Library for

AeroLogic

®