Home

PRODUCT by Residential
Ultraviolet APPLICATION

Water
Purification
Room Air /Air Duct Sanitizers

PRODUCT by Commercial
Ultraviolet APPLICATION

Water
Purification
Liquid
Disinfection
Wastewater Disinfection
Room Air/Air Duct Sanitizers
Air & Surface Disinfection
Storage Tank Air Sterilizers
Pond, Lake and Swimming Pool UV, Aeration/Ozonation

UV Germicidal
Lamps, Lamp Holders, Quartz
BL




AeroLogic

®

UV Air Duct Disinfection

AeroLogic® Uses and Applications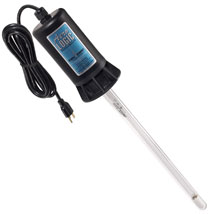 The versatility of the

AeroLogic

® Air Duct Disinfection system allows it to be installed in either the return air plenum (where air temperatures are usually warmer) or the supply air plenum (where air speeds are lower). The

AeroLogic

® should be installed in the middle of long, straight sections of duct, to maximize the ultraviolet exposure time.

Ultraviolet disinfection is a unique and rapid method of air and surface disinfection, utilizing germicidal ultraviolet lamps to produce short wave ultraviolet energy that is lethal to bacteria, virus and other microorganisms. By utilizing the

AeroLogic

® Air Duct Disinfection system in your home's HVAC system, you will be reducing and/or eliminating the growth of bacteria, mold, etc. and the spread of cold and flu viruses as well as other airborne transmitted diseases.
---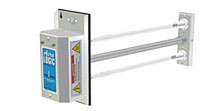 AeroLogic

® Air Duct Disinfection Systems utilize germicidal lamps to protect personnel from potentially harmful airborne contaminants by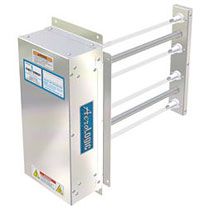 effectively destroying airborne microbes including bacteria and virus in new or existing duct systems.

Desired bacteria kill rates of 90% for the average commercial installation or 98% kill rates (essential for hospitals and pharmaceutical laboratories) can be achieved using these type fixtures. Units are constructed of tough, corrosion-resistant Stainless Steel to ensure long life.
---
AeroLogic

® is a trademark of the Atlantic Ultraviolet Corp.
AeroLogic

®

Product
Overview
Product
Advantages
Product
Features
Product
Photos
Principal of
Operation
Residential & Commercial
Models
Uses and Applications
Germicidal
Lamp Data
Ultraviolet
Dosage
Installation
Maintenance
Installation
Photos
Monitoring
Options
Optional
Accessories
Replacement Parts
Adobe Acrobat PDF Library for

AeroLogic

®