Home

PRODUCT by Residential
Ultraviolet APPLICATION

Water
Purification
Room Air /Air Duct Sanitizers

PRODUCT by Commercial
Ultraviolet APPLICATION

Water
Purification
Liquid
Disinfection
Wastewater Disinfection
Room Air/Air Duct Sanitizers
Air & Surface Disinfection
Storage Tank Air Sterilizers
Pond, Lake and Swimming Pool UV, Aeration/Ozonation

UV Germicidal
Lamps, Lamp Holders, Quartz
BL




Tank Master
™
uv liquid tank storage sanitizers

Tank Master™ Product Overview
Versatile Ultraviolet Germicidal Disinfection Fixtures for Liquid Storage Tanks
Tank Master™ Equipment attaches to existing liquid storage tanks to provide sanitary storage and disinfection for air and liquid contents.

Uses and Applications
Liquid storage tanks present unique challenges regarding disinfection and the maintaining of a sterile environment for their contents.

The air space above the liquid is an ideal environment to promote the growth of bacteria, mold and other microorganisms, leading
to the contamination of the stored liquid. The Tank Master™ Liquid Storage Sanitizer line of versatile, germicidal ultraviolet fixtures is specifically designed to meet these challenges. Tank Master™ disinfects the air space and surfaces, above the liquid, and the liquid contents. Disinfection is accomplished by irradiating contents with germicidal ultraviolet rays, without the use of heat or chemicals, which could affect taste, color, aroma, etc.

The Tank Master™ Liquid Storage Sanitizer consists of a germicidal ultraviolet lamp enclosed in a quartz sleeve, sealed to the static gland fitting and powered by the remote, plug-in, ballast The Tank Master™ design allows lamp/quartz sleeve assembly to be mounted horizontally, into the storage tank (submerged in the liquid contents) or suspended vertically from the top of the storage tank (partially immersed in the liquid contents).

Installation & Maintenance
Tank Master™ Germicidal Units are designed for use with liquid storage tanks as shown in the drawing to the right. The electrical enclosure should be protected from moisture and the quartz sleeve assembly is not recommended to be used in a submerged application over 5 psi.

Lamps and quartz sleeve should be periodically cleaned to maintain high transmission of ultraviolet rays. Stubborn stains that cannot be removed with alcohol or a detergent usually can be removed with a dilute hydrochloric acid. Lamps have a rated effective life of 10,000 hours.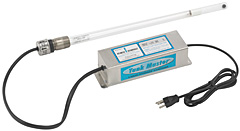 ---
Tank Master

™ is a trademark of the Atlantic Ultraviolet Corp.