Sanitron

®

Ultraviolet Water Purifiers

Sanitron® Special Features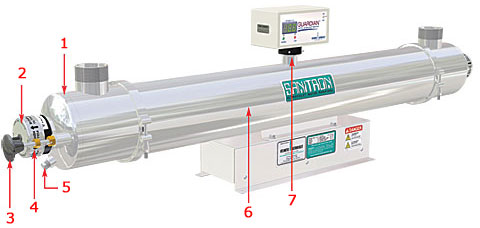 1- Removable Flanged Head Units disassemble completely and easily in the event that repairs are necessary. No special tools or fixtures required. (Models S2400C and larger feature dual removable heads.)
2- Quick Lamp Change Exclusive Easy-Off™ Retainer Cap enables effortless lamp replacement without shut down of water pressure or drainage of tank. No tools required.
3- Patented Dual Action Wiper Mechanism Facilitates periodic cleaning of quartz sleeve without interruption of purifier operation. No disassembly required. Complies with U.S. Public Health Guidelines.
4- Wiper Lock Lock wiper mechanism in retracted position.
5- Drain Plug Convenient, in-place drainage of purifier chamber.
6- Type 316 Stainless Steel Construction Chamber, head and clamp are electropolished and passivated stainless steel for an attractive finish and dependable service.
7- Sight Port Plug Visible glow provides positive indication of germicidal lamp operation. (Unit shown with optional Guardian™ Digital Ultraviolet Monitor in sight port).
---
Sanitron® Water Purifiers are manufactured under patents owned by the Atlantic Ultraviolet Corporation. Made in the USA. Copyright MCMLXXII, MCMXCI, MCMXCVII Sanitron® is a registered trademarks of the Atlantic Ultraviolet Corporation
Ster-L-Ray™ and Easy-Off™ Retainer Cap are trademarks of the Atlantic Ultraviolet Corp.