Home

PRODUCT by Residential
Ultraviolet APPLICATION

Water
Purification
Room Air /Air Duct Sanitizers

PRODUCT by Commercial
Ultraviolet APPLICATION

Water
Purification
Liquid
Disinfection
Wastewater Disinfection
Room Air/Air Duct Sanitizers
Air & Surface Disinfection
Storage Tank Air Sterilizers
Pond, Lake and Swimming Pool UV, Aeration/Ozonation

UV Germicidal
Lamps, Lamp Holders, Quartz
BL




Minipure

®

Ultraviolet Water Purifiers

Minipure® Product Features
Stainless Steel Construction
Chamber and hardware are Type 304 stainless steel for dependable long life. Chamber is electropolished and passivated for an attractive finish and dependable service.

Quick Lamp Change
Exclusive, patented Easy-Off™ Retainer Cap enables effortless lamp replacement without shut-down of water pressure or drainage of tank. No tools are required.

Fused Quartz Sleeve
Insures optimum lamp output at normal potable water temperatures.

Indicator Light
LED on transformer provides visual indication of germicidal lamp operation.

Optional Equipment
Optional accessories may be obtained at purchase time or added at a later date.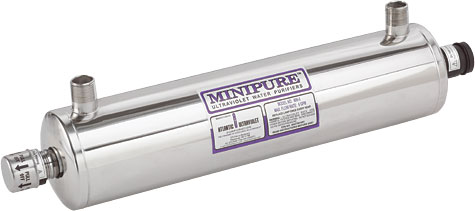 ---
Minipure®, Ster-L-Ray™ and Easy-Off™ Retainer Cap are trademarks of the Atlantic Ultraviolet Corp.
Minipure®
Product
Overview
Product
Advantages
Product
Features
Product
Photos
Principal of
Operation
Residential & Commercial
Models
Water
Quality
Germicidal
Lamp Data
Ultraviolet
Dosage
Operating
Characteristics
Installation
Maintenance
Optional
Accessories
Replacement Parts
Adobe Acrobat PDF Library for

Minipure

®