Home

PRODUCT by Residential
Ultraviolet APPLICATION

Water
Purification
Room Air /Air Duct Sanitizers

PRODUCT by Commercial
Ultraviolet APPLICATION

Water
Purification
Liquid
Disinfection
Wastewater Disinfection
Room Air/Air Duct Sanitizers
Air & Surface Disinfection
Storage Tank Air Sterilizers
Pond, Lake and Swimming Pool UV, Aeration/Ozonation

UV Germicidal
Lamps, Lamp Holders, Quartz
BL




Sanitaire
®
Ultraviolet Room Air Sanitizer

Sanitaire® Product Features
for RS72, RS140, RS435 or RSA760 - wall or ceiling mount, Residential or Commercial

Germicidal Lamps Genuine STER-L-RAY™ Ultraviolet Germicidal Lamps provide the utmost in quality, sustained high output and long life.
Lampholders Steadfast™ Lampholders are spring loaded telescopic type that facilitate convenient, easy lamp change that is quick and hassle-free.
Interlock Safety Switch The interlock safety switch is a standard feature that disconnects power to the unit when the access panel is removed for lamp or filter replacement.
Polished Reflector Interior chamber is polished providing a highly reflective surface to maximize ultraviolet intensity within the chamber.
Standard Wall Mount Kit Consists of (2) pre-drilled stainless steel brackets. Brackets enable unit to be mounted to wall in either the vertical or horizontal position.
Louvered Exhaust Panel Protects the room's occupants from ultraviolet exposure by restricting ultraviolet radiation from passing into the room.
Observation Port(s) A visible glow through the clear sight glass provides positive indication of germicidal lamp operation.
Stainless Steel Construction The chamber is Type 304 stainless steel for an attractive finish, unparalleled strength and durability.
Particulate Filter Washable Electrostatic Filter, Absolute Filter - HEPA, Type (Model RSA760)
---
Sanitaire® Product Features for RSCS280 - ceiling mount, Commercial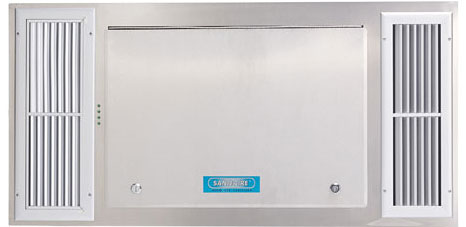 Germicidal Lamps Genuine STER-L-RAY™ Ultraviolet Germicidal Lamps provide the utmost in quality, sustained high output and long life.
Lampholders Steadfast™ Lampholders are spring loaded telescopic type that facilitate convenient, easy lamp change that is quick and hassle-free.
Interlock Safety Switch The interlock safety switch is a standard feature that disconnects power to the unit when the access panel is removed for lamp or filter replacement.
Polished Reflector Interior chamber is polished providing a highly reflective surface to maximize ultraviolet intensity within the chamber.
Louvered Exhaust Panel Protects the room's occupants from ultraviolet exposure by restricting ultraviolet radiation from passing into the room.
Lamp Operation Indicators Provide positive indication of germicidal lamp operation.
Stainless Steel Construction The chamber is Type 304 stainless steel for an attractive finish, unparalleled strength and durability.
Particulate Filter Washable Electrostatic Filter, Absolute Filter - HEPA, Type (Model RSA760)
---
Sanitaire® Product Features for RSM2680 - mount unit, Commercial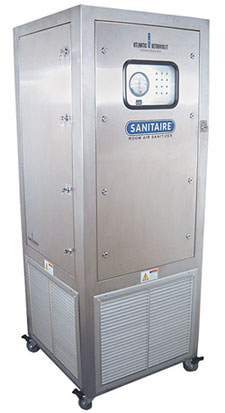 Germicidal Lamps Genuine STER-L-RAY™ Ultraviolet Germicidal Lamps provide the utmost in quality, sustained high output and long life.
Lampholders Steadfast™ Lampholders are spring loaded telescopic type that facilitate convenient, easy lamp change that is quick and hassle-free.
Interlock Safety Switch The interlock safety switch is a standard feature that disconnects power to the unit when the access panel is removed for lamp or filter replacement.
Polished Reflector Interior chamber is polished providing a highly reflective surface to maximize ultraviolet intensity within the chamber.
Elapsed Time Indicator Realtime, non-resettable display of accumulated operating hours.
Louvered Exhaust Panel Protects the room's occupants from ultraviolet exposure by restricting ultraviolet radiation from passing into the room.
Lamp Operation Indicators Provide positive indication of germicidal lamp operation.
Stainless Steel Construction The chamber is Type 304 stainless steel for an attractive finish, unparalleled strength and durability.
Disposable Filters
Inexpensive, disposable cardboard constructed filters used when frequent filter changes are necessary.
Differential air pressure gauge
Used to measure filter resistance by measuring the pressure differential between outside (the fixture) air and the pressure in the blower compartment.

3- position power switch
Power to the fixture is controlled by a three position key switch. In the "OFF" position, no power is supplied to the blower or the germicidal lamps.

In the "BLOWER ONLY" position, power is supplied to just the blower and no power is supplied to the germicidal lamps. In the "LAMPS & BLOWER" position power is supplied to both the blower and the germicidal lamps.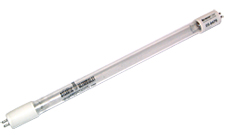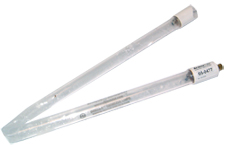 ArmorLite™ Safety Shield Armorlite Sell Sheet
Protective coating applied to Ster-L-Ray™ Lamps which eliminates the dangers associated with fragments of broken quartz and mercury contamination.
---
Sanitaire® is a registered trademark of the Atlantic Ultraviolet Corporation
Sanitaire

®

Product
Overview
Product
Advantages
Product
Features
Product
Photos
Principal of
Operation
Residential
Models
Commercial
Models
Uses and Applications
Germicidal
Lamp Data
Ultraviolet
Dosage
Operating
Characteristics
Installation
Maintenance
Installation
Photos
Monitoring
Options
Optional
Accessories
Replacement Parts
Adobe Acrobat PDF Library for

Sanitaire

®