Home

PRODUCT by Residential
Ultraviolet APPLICATION

Water
Purification
Room Air /Air Duct Sanitizers

PRODUCT by Commercial
Ultraviolet APPLICATION

Water
Purification
Liquid
Disinfection
Wastewater Disinfection
Room Air/Air Duct Sanitizers
Air & Surface Disinfection
Storage Tank Air Sterilizers
Pond, Lake and Swimming Pool UV, Aeration/Ozonation

UV Germicidal
Lamps, Lamp Holders, Quartz
BL



Infinity
™
Liquid Disinfection System

Infinity™ Product Overview
The

Infinity

™ Liquid Disinfection System is the result of years of arduous development performed by some of the world's most experienced ultraviolet engineers. These engineers, well versed in the ultraviolet purification of clear water, have come to recognize the need for a specialized ultraviolet disinfection system capable of conveniently and effectively disinfecting liquids with relatively high ultraviolet absorbency. As a result of these efforts, the

Infinity

™ Liquid Disinfection System is capable of delivering outstanding results time and time again, even where other systems fail.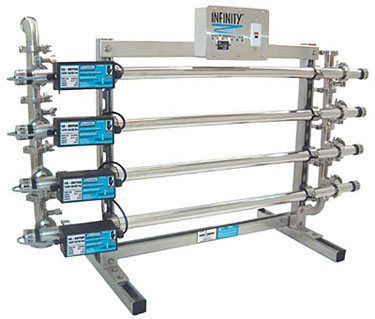 Infinity™
- .5 - 12 gallons per minute [gpm]
- has reflective interior surface
- custom configuration and modular design allows fluid flow variations
- 316 Stainless Steel Sanitary fittings - easy assembly - no tools needed
- 360 degree rotatable fittings allows control of flow direction
- innovative design for fluids with a high ultraviolet absorbency
---
Infinity™ is a trademark of the Atlantic Ultraviolet Corp.
Infinity

™

Product
Overview
Product
Advantages
Product
Features
Product
Photos
Principal of
Operation
Commercial
Models
Water
Quality
Germicidal
Lamp Data
Installation
Maintenance
Adobe Acrobat PDF Library for

Infinity

™