Home

PRODUCT by Residential
Ultraviolet APPLICATION

Water
Purification
Room Air /Air Duct Sanitizers

PRODUCT by Commercial
Ultraviolet APPLICATION

Water
Purification
Liquid
Disinfection
Wastewater Disinfection
Room Air/Air Duct Sanitizers
Air & Surface Disinfection
Storage Tank Air Sterilizers
Pond, Lake and Swimming Pool UV, Aeration/Ozonation

UV Germicidal
Lamps, Lamp Holders, Quartz
BL


Ecologic

®

Pond and Lake Reclamation

Ecologic® Problems & Solutions
The Problem
In early Spring, stagnant lakes and ponds begin growing algae that thrive on large amounts of nutrients and sediment built up from decaying plant and animal matter. By mid-Summer these lakes and ponds have become dark and murky, and begin releasing unpleasant odors. As this unsightly process continues, a deficiency in dissolved oxygen becomes progressively worse and the lakes and ponds are robbed of their ability to support fish and aquatic life.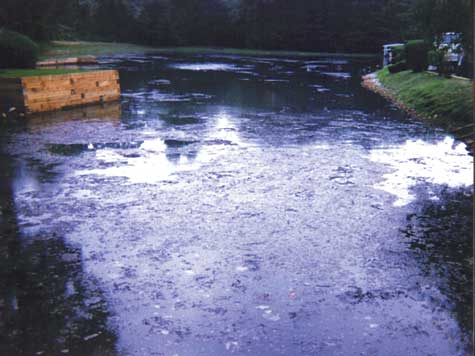 Before Treatment A stagnant, choked pond–unable to clean itself.

The Solution
The Eco-Logic®Pond & Lake Reclamation System directly introduces a controlled combination of air and ozone to the bottom of the lake or pond.
This, in turn, promotes a positive ecological balance in the water in numerous ways:
1. The direct introduction of air increases the oxygen levels throughout the body of water.
2. The abundant oxygen promotes survival and proliferation of fish and aquatic organisms that feed on plant and organic matter.
3. The introduced oxygen displaces carbon dioxide, thereby eliminating unwanted waterborne weeds and algae.
4. The rising, minute bubbles cause circulation and destratification of the water, thereby carrying septic water to the surface, where toxic gases are released and the water is exposed to sunlight.
5. The induced currents create more uniform water temperature throughout, leading to improved distribution of aquatic life within the lake or pond.
6. The controlled amount of ozone (O3) acts in conjunction with the abundant dissolved oxygen (O2) to break down and oxidize even stubborn toxins and organic matter that are resistant to oxygen alone. Ozone directly reduces color, turbidity, and odors, and oxidizes and precipitates dissolved metals.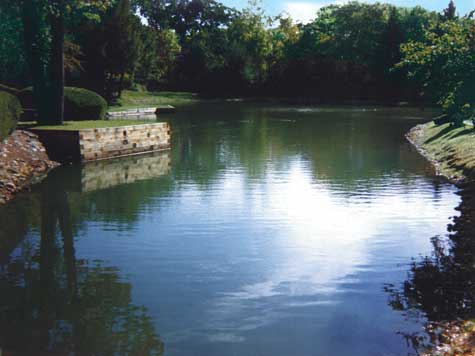 With Treatment - Complete revitalization—a healthy pond of clean, oxygenated water.
---
Eco-Logic® is trademarks of the Atlantic Ultraviolet Corp.
Ecologic

®
Product
Overview
Product
Advantages
Product
Features
Product
Photos
Problem & Solution
Commercial
Models
Before/After Treatment
Installation
Maintenance
Accessories
Replacement Parts
Adobe Acrobat PDF Library for Ecologic®