Home

PRODUCT by Residential
Ultraviolet APPLICATION

Water
Purification
Room Air /Air Duct Sanitizers

PRODUCT by Commercial
Ultraviolet APPLICATION

Water
Purification
Liquid
Disinfection
Wastewater Disinfection
Room Air/Air Duct Sanitizers
Air & Surface Disinfection
Storage Tank Air Sterilizers
Pond, Lake and Swimming Pool UV, Aeration/Ozonation

UV Germicidal
Lamps, Lamp Holders, Quartz
BL

Sanidyne®

uv portable air and surface sanitizer

s
Sanidyne® Product Overview
- units are constructed of tough, corrosion-resistant 304 Stainless Steel to insure long life
- disinfects air and surfaces by means of germicidal irradiation
- generates high levels of ultraviolet radiation lethal to bacteria, mold, viruses and fungi
- portable, compact and light weight, easily carried from one location to another
- a room as large as 1,000 sq. ft can be treated in one hour
- for use in unoccupied room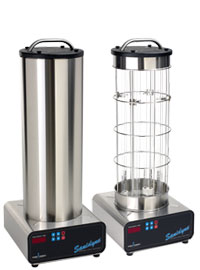 Optional Accessory

- Zenith

™ Ultraviolet Meter
The

Zenith

™ ultraviolet meter is a sensitive, hand-held, ultraviolet meter; used to check the intensity of aging ultraviolet lamps and survey rooms utilizing an air sanitizer to ensure that the ultraviolet radiant exposure of personnel within the treated area is within acceptable limits.

The

Zenith

™ ultraviolet meter provides accurate and easy-to-read-levels of intensity. A narrow ultraviolet band pass filter in combination with the photodiode detector makes the

Zenith

™ insensitive to ambient lighting within the area being surveyed.

Zenith

™ monitor is powered by a single 9-volt DC alkaline battery and an internal battery-saver will automatically shut off the meter after 30 minutes of inactivity.
---
Sanidyne

® is a regsitered trademark of the Atlantic Ultraviolet Corp.